Email

Home

NSW

Victoria

Qld

S.Aust

W.Aust

Tasmania

Agility/Obedience - All States

Webrings/Links

Australian National BIS Winners

Notable Boxers

For further information regarding the BOXER featured click on photo and
It will take your direct to the Owner/Breeders Kennel
Website or Email Address



PAGE FOUR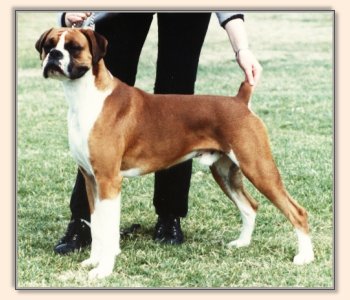 Aus Ch Whitechapel Free N Easy

Sire: Aus Ch Thats Right of Panfield (Imp UK)
Dam: Ch Whitechapel Red N Rusty

Owner/breeder: Mrs J & K Lovell
Date Whelped: 31 May 1980

SIRE OF 36 AUSTRALIAN CHAMPIONS
Aus Bred Champion Grandchildren and Great Grand Children
Some of which are pictured on this Website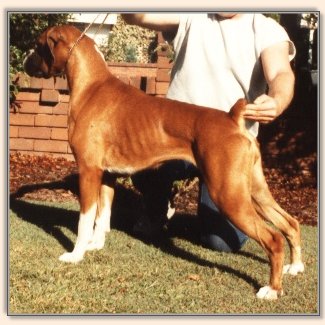 Ch Toncris Summer Charm

Sire: NZ Ch Gremlin Summer Spree (IMP UK)
Dam: Aust Ch Tobana Sea Charm

Owner/breeder: Mrs C & K Hearne
Date Whelped: 18 November 1982

Top Bitch Pointscore 1985 Boxer Club of NSW
CC Bitch - BIS Boxer Club of NSW 6.7.1985
RCC Bitch WDBC 9.9.84
County Cumberland All Breeds Champ Show CC Bitch 4.11.84
Castle Hill All Breeds Champ Show 16/17 March 1985 - CC Bitch both days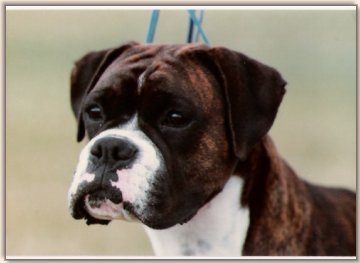 Ch Hytone Tizani

Sire: CH Tonup Quality Street
Dam: CH Chelveston Gold Fever

Date whelped: 22.10.1982
Owner/breeder: Beattie & Res

BEST IN SHOW WINNER
RUBIS and Multi BIG Winner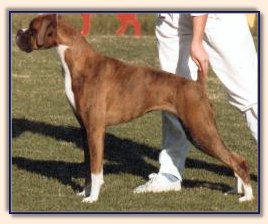 Ch Tonup Angels Flight

Sire: Tonup Golden Eagle
Dam: Chelveston Which Witch

Date whelped: 4 February 1983
Owner/breeder
Jennifer Davis/Davies, Cope & Jones (Tonup Knls)

Kes always figured in the placing's under international Boxer specialists.
From taking Minor Puppy in Show under Pat Heath (UK)
(Boxer Association of Victoria Champ Show)

Again under Robert Forsyth (USA) (South Australian Boxer Club)

In 1983 to Junior in Show under Sheila Cartwright (UK) in Sydney.

When Sheila Cartwright returned 3 years later
to judge the same show it was Kes' daughter
Skatchard Summa Sky - Nicky
(Ch. Tonup Angels Flight x Aus/UK Ch Summer Shadow of Gremlin)
who took out the Junior Bitch class following in her mothers footsteps.








Ch Boxhaven Traditional Lee

Sire: Am &Can Ch Tradonalee Trade Wind (Imp USA)
Dam: Ch Boxhaven Quality Blend

Date whelped: 4.6.1983
Owner/breeder: Mr P & H Foster


Trad was a multiple RUBIS at All Breeds & Specialty Shows
At the prestigious Garden Island Kennel Club Show
He was RUBIS 2 Years in a row (in excess of 2000 Entries)
Plus Multiple Group and in Show awards.

5 RUBIS All Breeds
RUBIS Boxer Club of NSW

He won The Boxer Club of NSW Point Score

The sire of Ch Boxhaven Mark Lee a BIS winner and BC NSW Puppy Point score

Sire of Boxhaven Ash Lee Winner of the BC NSW Puppy Point Score








Aus Ch Intrends Wind Storm

Sire: Am/Can Ch Tradonalee's Tradewin (Imp Canada)
Dam: Ch Intrends Wind Song

Date Whelped: June 1983

Owner/Breeder Judy Horton (Intrends Kennels)

Best of Breed at the Melbourne Royal in 1984
CC Adelaide Boxer Specialty 1985
RCC Adelaide Boxer Specialty 1986









Golden Greats Boxer Pages

1 2 3 5